Implement the Thinkabit Lab Program at your site
Through the Thinkabit Lab program, we continue our commitment to expand into different regions of the United States with new signature activities for students and educators.
There are more than 25 Thinkabit Lab sites at schools, universities, libraries and other organizations to serve students and educators across the country.
We have also made many of our activities available for free download so that anyone can begin using these career exploration and hands-on engineering activities in their own space without any commitments.
Hubs and Spokes
Collaborations with partners vary as we adapt its structure to the possibilities of each organization. Typically, these collaborations can be divided into two types:
HUBS
Implement the Thinkabit Lab program in a single day
Operate 3-5 days a week, reaching a large population throughout the school year
Host students from the surrounding area
Provide the experience at no cost to schools or students
SPOKES
Serve the students of a single school or district
Implement the Thinkabit Lab program across multiple sessions
Host students several times throughout the school year, reaching a smaller population than a hub
Could be part of a class, after-school program, or other schedule
Provide the experience at no cost to students
I want to learn more about becoming a Hub or Spoke
Using the Learning Center
The Learning Center is open to anyone with an email and provides activities that can be used independently or with a group of students.
LEARNING CENTER ACTIVITIES INCLUDE
Career Exploration Activities
A guide to Getting Started with Arduino
LED Activities
Servo Activities
Sensor Activities
Troubleshooting guide
Plus videos for several of the activities that you can watch and use with students.
Take me to the Learning Center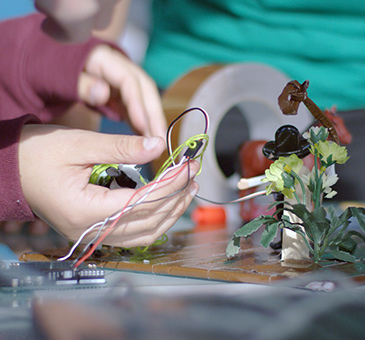 Benefits of becoming a Thinkabit Lab collaborator
Access to the Thinkabit Lab Teaching Resources and Teaching Materials
The Thinkabit Lab team has developed step by step instructions for each of our signature activities, including what to say, where students might have difficulties, and best practices on how to unpack the activities. Additionally, we will ship you all of the teaching materials needed to implement the program, including Arduino hardware kits, career exploration materials, and starter craft supplies. Click here for a complete list of materials provided as well as resources you'll need in addition to these supplies.
Teacher Support
Our team is here to help guide you through the process of starting your new Thinkabit Lab site and will arrange phone calls, answer questions via email, and potentially conduct site visits. We are here to help you succeed and have the experience of running our own site to help you through any hurdles you may approach.
Qualcomm Thinkabit Lab Branding
We will ship you posters and banners to hang in your spaces to add color and to distinguish your site as a Thinkabit Lab site. Many of our sites have received press and media attention from their spaces and we are happy to help with any inquiries you may receive.
What's Expected from a Thinkabit Lab™ site?
Broad Reach and Inclusive:
Serves a large numbers of students and provides space for other STEM activities, all students can participate based on grouping
Common Experience:
Implementing the Thinkabit Lab Experience, including Qualcomm World of Work and Engineering activities, culminating in the creation of a robotic creation
Program Outcomes:
We need to collect common data across the entire network to provide program outcomes to garner funds (grants, in-kind donations, allocations)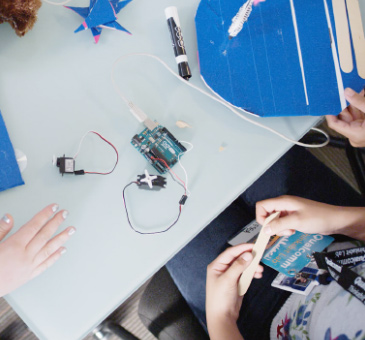 Thinkabit Lab Starter Kit Provided to all new Thinkabit Lab sites
Qualcomm World of Work Materials
36 Career Activity Rings
36 Personal White Boards
36 Dry Erase Pens and Sock Erasers
20 "Internet of Things" Activity Rings
Engineering Materials
20 Hardware Kits including:
Arduinos
Servos
LEDs
Wires
USB Cables
Extra LEDs
Extra Wires
Wire Cutters & Strippers
Craft Materials
Popsicle sticks
Hot Glue Guns & Glue Sticks
Duct Tape
Plastic and Plush Animals
Toilet Paper Rolls
Other Craft Supplies
Resources needed beyond what Qualcomm provides
Things to Consider when creating a Thinkabit Lab space
Fun & Creative Environment
The environment should be bright, have flexible seating options, and be a space where students don't feel like they're in a classroom. It should be different than the look of the rest of the school, whether it is through the arrangement of the tables or the color of the walls.
Designated Instructors
We always say that it starts with the talent. Depending on the schedule and your organization, you may have two or three instructors who rotate or team teach, or you may have one instructor who runs the space and all of the activities in it. Regardless, this person should be passionate about inspiring students to dream and invent.
Computers
Our program uses the Arduino (included in the Thinkabit Lab starter kits) which requires a computer to write code. Currently there is no free version of the Arduino software to use on Chromebooks or tablets, so a traditional laptop or computer is recommended.
Colorful Furniture & Storage
Bean bags, white board tables, and rolling chairs, oh my! Using fun, flexible furniture and integrating storage within the design of your space is key. This is especially important at spoke sites where students may need to store their projects throughout the program.
Instructional Technology
The two most important pieces of technology you'll need are TVs or a projector (to show students the code you're writing, the wires you're connecting, or the videos from the Teaching Resources) and a document camera.
Transportation & Food
If students will be visiting your Thinkabit Lab site from other locations, be thinking about they will get there and who will feed them. School Districts may need to factor transportation and food cost into their annual budget.
More Details / Fine Print
Criteria: Broad Reach, Inclusive, Common Experience, Outcomes, Sustainable
Expansion Goal: Broadly provide Thinkabit Lab Experience to wide swath of students in STEM underserved areas across the country.
Broad Reach: Serves large numbers of students + provides space for other STEM Activities
Inclusive: All students can participate based on grouping
Common Experience: Thinkabit Lab Experience (one-day, robo-craft project, inspire project)
Sustainable: Aligned with organization's goal (District-wide).
Support from key leadership (District Superintendent)
Share Success
Use Qualcomm Thinkabit Lab signage (provided)
Acknowledge Qualcomm Thinkabit Lab (events, media coverage, community members)
Follow us on Twitter, Post to tag us when highlighting our program.
Share media releases and coverage with us
Send photos along with student releases of at least one main event (once a year)
Complete end of year survey and use common metrics to collect student outcome data