'Agxcellent' Projects: Ag Tech Camp at Qualcomm State-of-the-art lab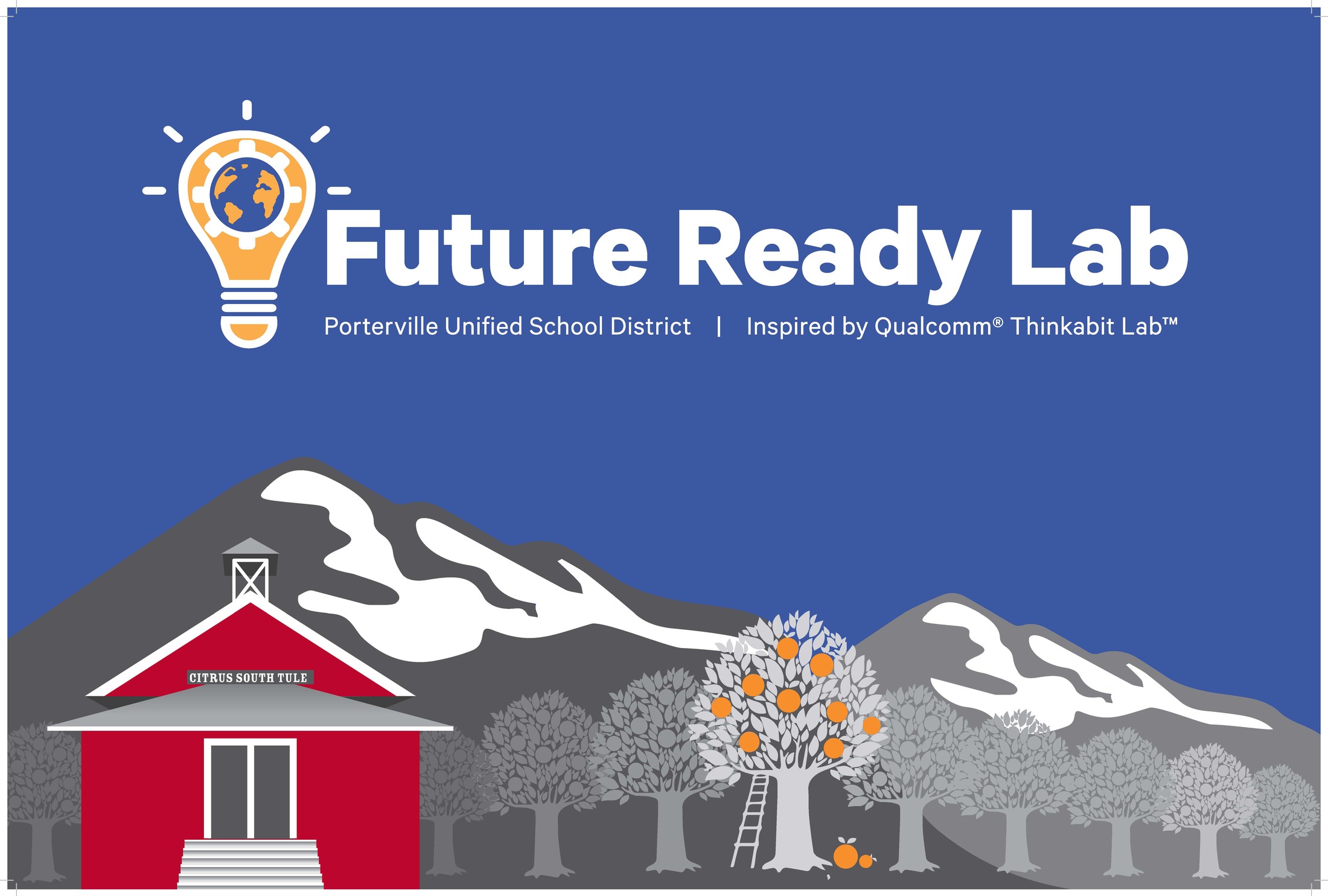 Students from both Porterville High Schools and Porterville College are participating in a weeklong agricultural technical "Internet of Things" (IOT) camp at with Porterville Unified School District's partners from Qualcomm at the FRL Lab at the former Citrus South Tule school house in Success Valley.
The camp is running all this week from Monday to today and emphasizes STEAM learning, where students use science, technology, engineering, art, and mathematics to solve agricultural problems with engineering and technology solutions. Gloria Banuelos, who's the Thinkabit lab manager for Qualcomm, who sponsored the camp said, "The idea is that almost all technology companies like Qualcomm have both engineering and non-engineering careers. And Qualcomm is focused on investing in future inventors and creators of technological inventions to help solve agricultural problems in this case."
Students used agricultural tech cards to help them brainstorm ideas to create wireless products using their computers to create codes, sensors, circuitry, applications, called the I.O.T., and more to solve agricultural problems. Students learned to create an app farmers could use to prevent over watering their crops and wasting water. A water gauge sensor would measure water usage and shut the water off electronically, from a long distance, when the farmer used the app that wirelessly controls the sensor.
Jorge Moreno and Sebastian Santoyo from Granite Hills High School, and Santiago Garcia and Joel Valencia from Harmony Magnet Academy worked on a wireless detection system sensor that would sense changes in temperature and humidity that would help farmers monitor grape and vine health in the vineyards to keep mildew off the grapes. Moreno said, "Farmers cannot successfully monitor grape health in the vineyards, so we are working on this detection sensor to help them keep from losing so much of their crops to to rapid changes in temperature and humidity."
The students electronic sensors and applications were all using short range bluetooth technology, but in the fields when products like these are actually used they're connected using long distance wireless technology explained Banuelos and another Qualcomm engineer.
Students Emily Rubalcava, Trinity Palomino, Yessenia Cabrera, and Adelia Vargas worked on a project solving a drought and overirrigation project to help farmers control their water usage.
"We are using a temperature and humidity sensor because when farmers irrigate they just flood their crops and are using clean drinkable water to irrigate. There is less than 1 percent clean drinking water, so we need a way to save water. So we are creating a water saving app," said all the girls. They explained a sensor they were creating would detect moisture in the soil, and they were also using a temperature gauge to measure how hot the temperature gets, so the soil moisture sensor would tell the farmer when to stop watering, so he wouldn't waste water.
When all the students were having lunch a few of them talked about the camp. Rubalcava said, "The coding is hard. But we are getting a lot of help. It is my first time ever at a camp like this. It's very hard and complex, even for a weeklong project." Some of the students said they would definitely be interested in pursuing the agricultural and engineering they had learned at the camp.
Rafe Cranford from Strathmore High School said he and his project partners had been working on a greenhouse sensor to keep the plants properly watered, and he was definitely interested in hydroponics.
Angel Bedolla from Granite Hills worked with other students on a venilation and watering system sensors to regulate watering in a greenhouse and measure humidity.
After lunch Banuelos had all the students, Qualcomm engineers, teachers, and administrators gather in the lab and said, "We have made amazing progress this week," and she spoke about how technology is used not just in agriculture but in almost every aspect of modern life, and there are jobs available for engineers. She said there are automated jobs that are now handled by robots, drones and satellites. And drones use photography and infra-red imaging to monitor crops and orchards. Technology is also used to conserve water and other resources.
Banuelos introduced a panel of professionals from the community and said they were honored to have them take time to tell the students about their roles in agriculture and the surrounding community. The professionals were; Jake Duffin, from AgriCare, Dr. Claudia Habib, Porterville College president, Jason Biagio, Geospatial Developer/Analyst from Setton Pistachio of Terra Bella, and John Corkins, General Manager for Research for Hire, Inc, who introduced themselves to Ag Tech camp student and teachers and explained their backgrounds and what they did for a living, and how they got there.
Duffin explained he was a farm manager for AgriCare and said he graduated from Strathmore High School and took engineering and worked behind a computer. He wanted to get out from behind a desk, and told about some of his experiences. He said people who worked in the fields have a lot of experience, but college and a degree are important. He works with hydrologists, agronomists, and programming at AgriCare, but that outside knowledge is important.
Habib told the students she originally came to this country not speaking English, and learned it. She taught architectural drafting and design, and worked designing buildings and hospitals for years using computerized architectural drafting. She went back to university at Fresno State and received another degree in education, and is now PC president. She said, "All of the skills that you accrue help you learn to think differently. Keep your mind open and keep learning. All technical skills transfer. Anything that interests you helps keep your motivation. You have to continually learn and technology is part of our lives."
Biagio who is a geospatial developer and analyst at Setton Pistachio Farms in Terra Bella. He introduced himself and told the students he's kept constantly busy because the company is already technologically advanced. He manages 25 million trees, but they will always need engineers and water will always be a problem. Technology is helping them water, and precise agricultural engineering helps them focus on watering, fertilizing, and managing the health of plants and pest control.
Corkins spoke to the students and told them about how he got started in the industry. He spoke of history and how chemicals were used and now how they can pinpoint the use of chemicals, and how they're safer today than ever before, because much less is being used. He said agriculture is the most progressive industry in the country, and a college education or technical education is important. "Something that you can use that will keep you moving forward. The most important thing is diversity.
"Find something that interests you. If you find something you enjoy it's not a job. Then you are going in the right direction."
Pathways Learning Director Erik Santos, said, "This week long camp provides an opportunity for high school and college students to immerse themselves in new technology and future carreers that they might be interested in. It really blended STEAM and agriculture industries well."