Qcamp 2017™ sows future inventors far beyond our walls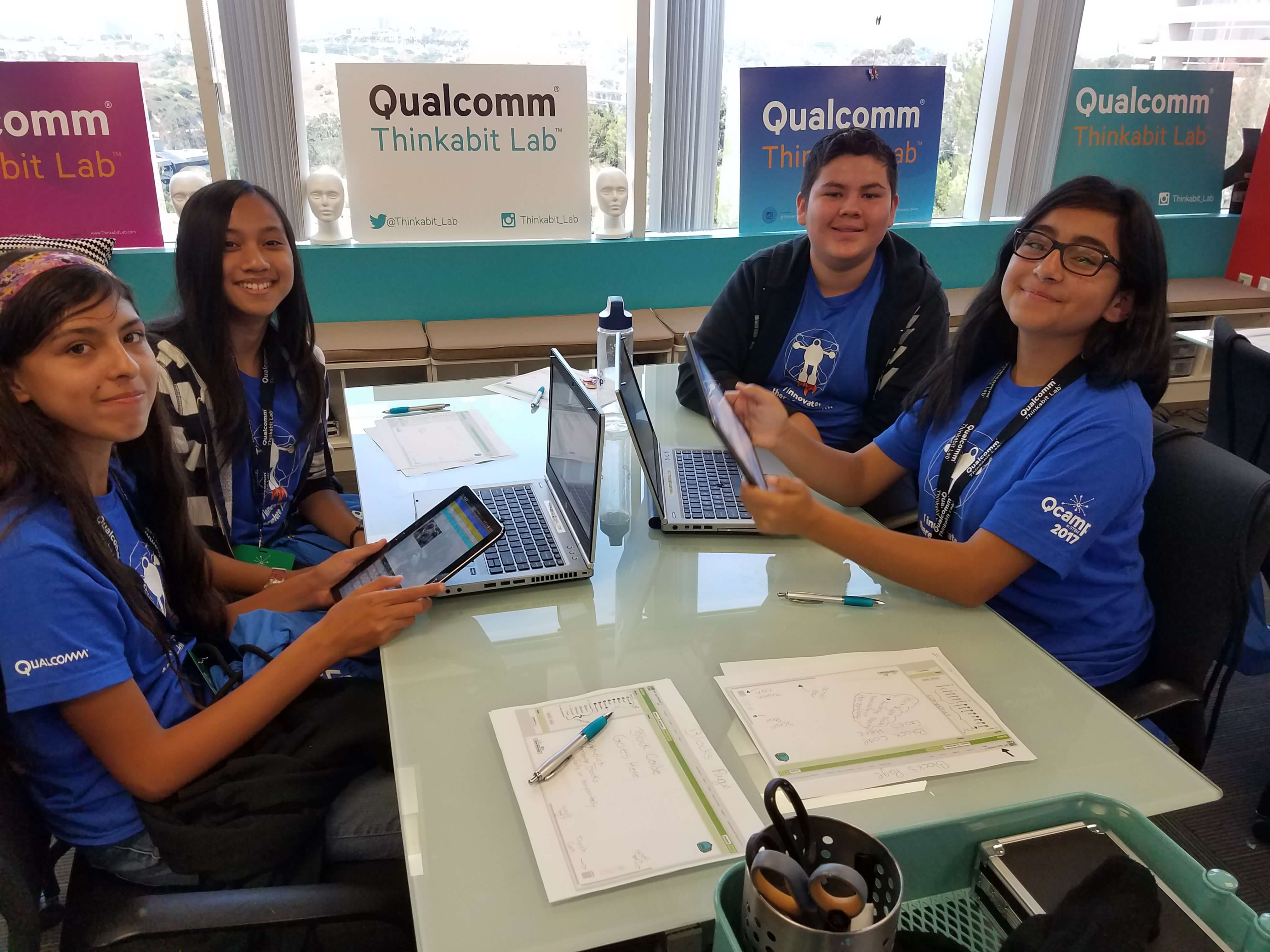 After four years, Qcamp™ is sowing the seeds of future STEM professionals far beyond the walls of our Qualcomm® Thinkabit Lab™.
Qcamp 2017 sows future inventors far beyond our walls
After four years, Qcamp™ is sowing the seeds of future STEM professionals far beyond the walls of our Qualcomm® Thinkabit Lab™.
Inspired by our popular annual summer STEM program, schools, libraries and nonprofits collaborated with us this year to provide approximately 250 students in a variety of locations with free, immersive summer STEM camps. The camps featured fun and engaging hands-on engineering projects and career exploration activities that are hallmarks of our Thinkabit Lab and Qcamp programs.
Having been involved with Qcamp since its inception, I'm very excited about how the program is expanding and evolving to reach and inspire more future inventors.
Qcamp in the U.S.
Qcamp debuted in 2014 with one two-week camp for 30 girls from the San Diego Unified School District that spanned three years. In 2017, our summer offerings included 10 camps for students from diverse cultural and socioeconomic backgrounds. Some of these camps were same gender and some were co-ed. Several were held at the Thinkabit Lab at Qualcomm's San Diego headquarters. Others were held at our cornerstone facility with Virginia Tech in the DC metro area and Inspired by Qualcomm Thinkabit Lab sites around San Diego County. Several of these camps were funded by school districts — demonstrating that education leaders value our unique, hands-on STEM program.
Many thanks to Chula Vista Elementary School District (CVESD), Chula Vista Public Library, Vista Innovation & Design Academy (VIDA), Vista Unified School District (VUSD), Virginia Tech and the  American Association of University Women's Tech Trek program for collaborating with us to expand Qcamp's reach.
Qcamp in China
Thousands of miles away, employees from our Qualcomm Beijing office hosted a camp with more than 60 girls and eight science teachers from rural parts of China. This exciting event was held in collaboration with the Children and Youth Science Center of China Association for Science and Technology (CAST). For a closer look at this and the other camps, check out the press note.
New tech concepts taught in Qcamp
In addition to reaching more students in more places this year, we integrated concepts of the Internet of Things (IoT) into the program. Exposure to IoT is important because devices are becoming increasingly connected with one another, which will impact all our lives in the future.
The students loved this approach and were totally engaged in their IoT-based engineering projects. They interviewed Qualcomm employees to learn about some of their daily challenges and then teamed up to invent devices that would make the employees' lives easier.
The students' creativity was palpable. We particularly enjoyed the fun little robot that could be programmed and wirelessly controlled via Bluetooth technology to do your housework for you.
Qcamp History
Qcamp was developed by Qualcomm and implemented with the help of the Institute of International Education (IIE) through the Women Enhancing Technology (WeTech) program. It was initially designed to introduce, inspire and encourage middle school girls' interest in STEM.
I'm excited that we're building on the program's success and look forward to sharing impact data soon.
Erin M. Gavin
Director, Qualcomm Thinkabit Lab
Read more:
Qcamp for Girls in STEM grows engineers of the future [video], August 16, 2016
Qcamp sprouts future female engineers [video], August 26, 2015
Qcamp plants seeds for girls in STEM, October 2, 2014