Qualcomm lab replicated in schools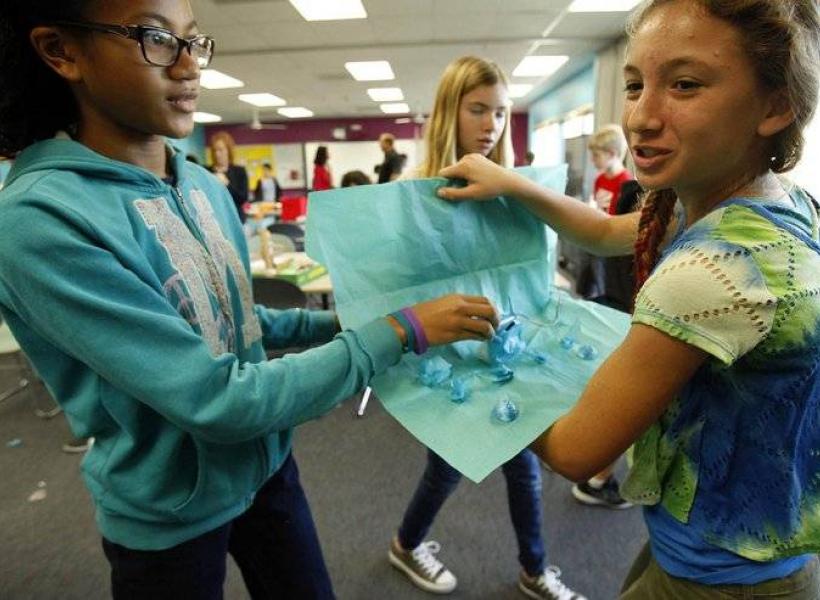 SAN DIEGO — Over than past year, Qualcomm has invited thousands of middle-schoolers from across the county to tinker alongside engineers in its sprawling Thinkabit Lab, a high-tech education wing built at its corporate headquarters.
Now, the tech giant is expanding its education reach by opening mini Thinkabit Labs at three middle schools — in San Diego, Chula Vista and Vista — under an initiative designed to help close the STEM deficit and help prepare students for local tech jobs.
Qualcomm showed off its campus lab on Thursday at Lewis Middle School in Allied Gardens, where students led tours of a renovated engineering classroom and design laboratory to Mayor Kevin Faulconer, parents, educators and the media.
"Inspiring and motivating local youth to excel in STEM subjects is vital to building the nation's brightest workforce right here is San Diego," said Faulconer, who called the corporate partnership a "model for the rest of the country by exposing more kids to STEM career paths, encouraging them to study STEM and preparing them for new opportunities in the 21st Century."
(STEM stands for science, technology, engineering and mathematics.)
The school's updated spaces resemble Qualcomm's original Thinkabit (the name is a nod to Qualcomm founder Irwin Jacobs' 1968 technology company, Linkabit) with the same colorful design, high-tech equipment, whimsical furnishings and corporate logos that are seen in the Sorrento Valley center that opened in March 2014.
The arrangement offers students a real-world education from engineers, and training for educators. Qualcomm benefits from the exposure to a demographic that might associate the company with little more than an aging stadium.
For Sheridan Allen, a 12-year-old Lewis student, engineering is a favorite class, in part, because it fosters her creative side.
"I love engineering because I love to make things. I want to be an engineer," she said. "Girls haven't always had the same kind of chances to do engineering and math."
The deficit of girls and women in STEM education and careers has been well-documented in California and nationwide. As a result, schools, universities, nonprofits and corporations have sponsored everything from camps to festivals to internships all designed to nudge girls to pursue STEM in college and careers. Qualcomm has special camps and mentors just for middle school girls.
Like most other tech companies, Qualcomm wants to recruit more women to its workforce. Women account for 14 percent of the company's engineers. But the company is also reaching out to boys in its effort to prepare all San Diego's youth to take advantage of the well-paying jobs.
"I cannot wait to see what happens in five to ten years. We will be hiring these students," Qualcomm's human resources chief Ed Hidalgo told the crowd at Lewis on Thursday.
Qualcomm has replicated its Thinkabit Lab at Feaster Charter School in Chula Vista, which Superintendent Francisco Escobedo attributes to increased academic achievement by students.
The Vista Unified School District is working with Qualcomm to finalize its lab, which will serve as a regional center for students in and around its base at the Vista Innovation and Design Academy.
The new engineering lab goes beyond steering students toward any particular career path, said Superintendent Devin Vodicka. It offers students creative and intellectual space to explore, invent, make mistakes and take on "messy challenges."
"It's so important to give students the ability to tinker, play and explore — to test out new ideas," he said.
A key component of the Thinkabit program asks students to consider the variety of careers offered at Qualcomm and other companies — from chefs to graphic designers to writers. Through a serious of exercises, students try to match their interests and academic strengths with careers. The activity includes relevant background on every job, including salaries and the education necessary to attain them.
The Research Group at Berkeley's Lawrence Hall of Science will evaluate the impact of Qualcomm's presence at local schools. Using surveys, observations and interviews, researchers will track students participation in science, technology, engineering and math (the STEM subjects).
The findings will guide Qualcomm as it considers plans to expand its labs to schools throughout the state and nation. In addition to outfitting more schools with labs, the company is in the early stages of establishing an education website with resources for students and teachers. It would also share curriculum and design guidelines for schools that want to create their own Thinkabit labs.