Qualcomm Thinkabit Lab Winter 2018 Newsletter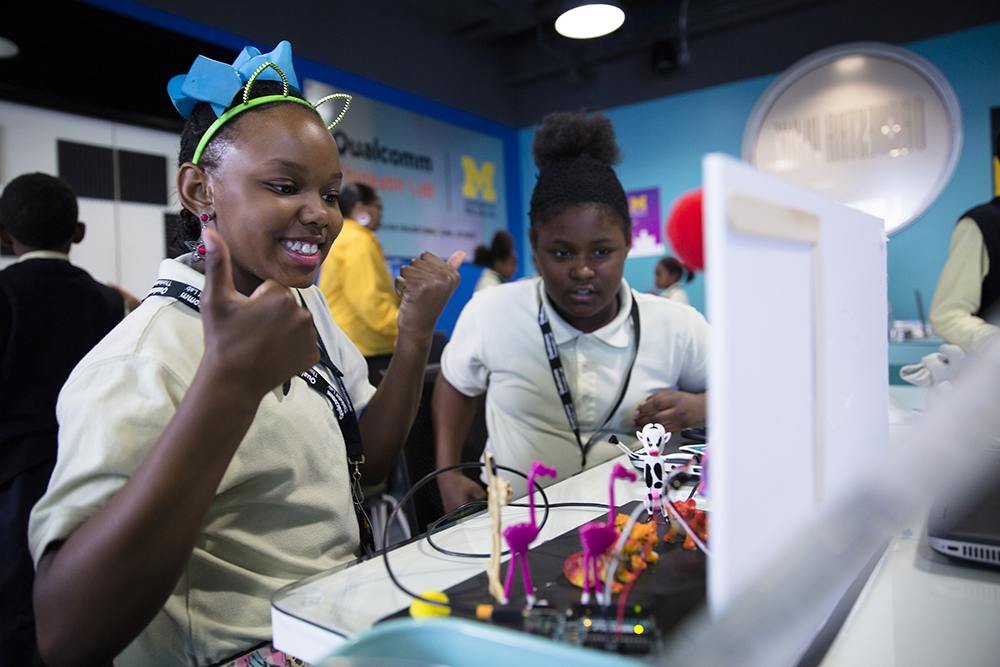 For Qualcomm Thinkabit Lab, 2017 was all about expansion.
HAPPY 2018!
---
For Qualcomm® Thinkabit Lab™, 2017 was all about expansion:
- Bringing science, technology, engineering and math (STEM) opportunities to students and educators in more communities across the U.S. Since launching the Thinkabit Lab Toolkit in May, more than 20 Inspired by Qualcomm Thinkabit Lab sites have opened in public schools, universities and libraries.
- Exposing students to more careers that require STEM skills. The Thinkabit Lab team worked with staff at the new sites to create career cards that are specific to businesses or industries in their communities, in addition to careers at a tech company such as Qualcomm.
- Incorporating new technologies into the Qualcomm® World of Work and engineering project activities. Students are now introduced to concepts related to the Internet of Things (IoT) during the World of Work activities and use what they learn to inform the inventions they create in the engineering space.
---
CUSTOMIZING THE QUALCOMM WORLD OF WORK EXPERIENCE
What do engineers, graphic designers, nurses, truck drivers and aircraft mechanics have in common? Their responsibilities — whether developing self-driving cars, designing a website, reading a patient's medical chart, loading cargo onto a truck or making sure an airplane is safe to fly — require STEM knowledge.
Qualcomm World of Work exposes students to careers at a tech company such as Qualcomm. As the Thinkabit Lab program expands to schools, libraries, universities and businesses nationwide, the World of Work experience is evolving. At each site, students are learning to identify and connect their talents to careers in tech and other industries, such as agriculture and health care. They explore careers that are good fits for them and that support workforce development needs in their communities. Additionally, IoT concepts are being incorporated into both the World of Work and engineering activities in order to show every student what they can do with creativity, imagination and a STEM background.
---
COMPUTER SCIENCE BUG BITES STUDENTS IN DETROIT
Leaders in education and government gathered in November to celebrate the opening of a Thinkabit Lab cornerstone facility serving students and educators in Detroit, Michigan. A collaboration between Qualcomm and University of Michigan (U-M), the newest Thinkabit Lab is igniting a passion in students for engineering and exposing them to the critical skills necessary for the 21st century workforce. The space is located inside the Michigan Engineering Zone, an innovative makerspace within the U-M Detroit Center downtown. In its first year, the program will engage approximately 1,500 students from 20 schools in Thinkabit Lab's signature QWOW career exploration activities and hands-on engineering projects. Ultimately, the Thinkabit Lab at U-M will serve 3,000 students annually. As part of their collaboration, Qualcomm and U-M will develop activities to inspire teachers to integrate more STEM lessons into their classrooms.
---
FROM BOOKMOBILE TO STEMMOBILE
What can you do with an old bookmobile? One California library has proposed transforming theirs into a STEMmobile. It's all part of The Innovation Station Project, a statewide STEM grant program initiated by the California State Library (CSL). The CSL is awarding up to $200,000 in grants to California libraries that create innovation labs similar to how Qualcomm, the City of Chula Vista and Chula Vista Elementary School District collaborated to create Innovation Station Inspired by Qualcomm Thinkabit Lab at the Chula Vista Public Library. The CSL recognizes the importance of developing STEM skillsets and sees the creation of these spaces as a way to enhance library sustainability and further position the library as a cornerstone of the community.