Qualcomm® Thinkabit Lab™ Summer 2018 Newsletter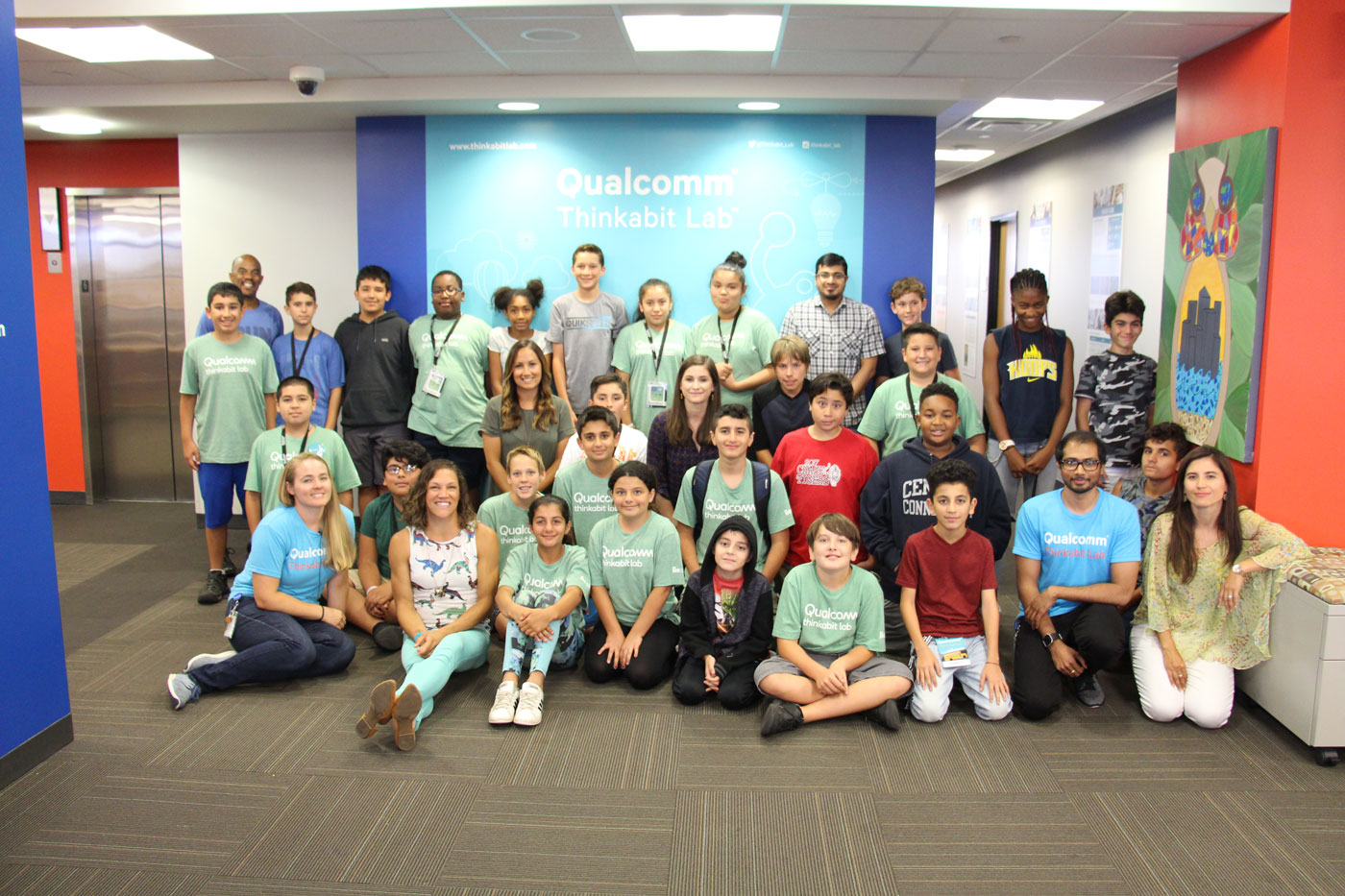 Over the last four years, Thinkabit Lab has collaborated with local San Diego schools to serve well over 16,000 students and more than 2,600 teachers, parents and administrators.
Thinkabit Lab makes a difference!
Over the last four years, Qualcomm Thinkabit Lab has collaborated with local San Diego schools to serve well over 16,000 students and more than 2,600 teachers, parents and administrators. Though the physical lab located in building AO closed in August 2018, the innovative Thinkabit Lab program will enter a new chapter with a focus on further broadening our reach to students irrespective of location.
THINKABIT LAB'S POSITIVE IMPACT
During the 2017-2018 academic year middle school students from across San Diego County, accompanied by their parents, teachers, and administrators, were inspired to become the next generation of STEM innovators. Overwhelmingly participants shared that the Thinkabit Lab experience was "amazing."  Some outcomes of those experiences included the following:
Students gained hands-on experience with engineering, coding, and building.
Teams worked together to design and build an Internet of Things (IoT) themed robotic creation representing solutions to a real-world problem.
Teachers were excited to do follow-up activities in their classrooms: fifty-one percent of the teachers reported that they plan to continue career explorations in their classrooms.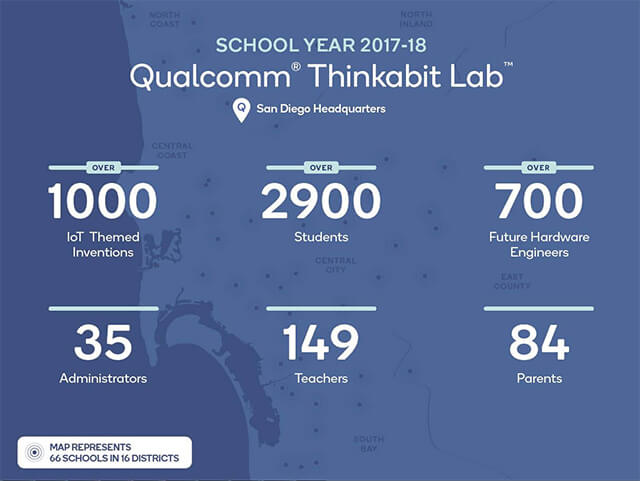 The summer of 2018 also brought about multiple summer camp experiences, in San Diego and across the globe.
In total, over 135 students attended Qualcomm Thinkabit Lab summer camp programs, engaged in hands-on engineering activities and explored careers in the tech industry.
Our San Diego headquarters hosted two camps, one all girls and one mixed gender, with students from Cajon Valley Union School District, focused on creating IoT inventions for positive global impact.
The Thinkabit Lab at the Michigan Engineering Zone hosted a week-long camp for Detroit area middle school students, including a visit to the University of Michigan Campus in Ann Arbor.
The Future Ready Lab, an Inspired by Qualcomm Thinkabit Lab in Porterville, CA hosted Girl Code camp to get current 7th grade girls excited to explore engineering futures as well as other robotics camps.
Our Qualcomm China office hosted a group of girls from rural areas for a week-long experience in ScratchPi and Arduino programming, including visits to the Qualcomm office and the China Science and Technology Museum.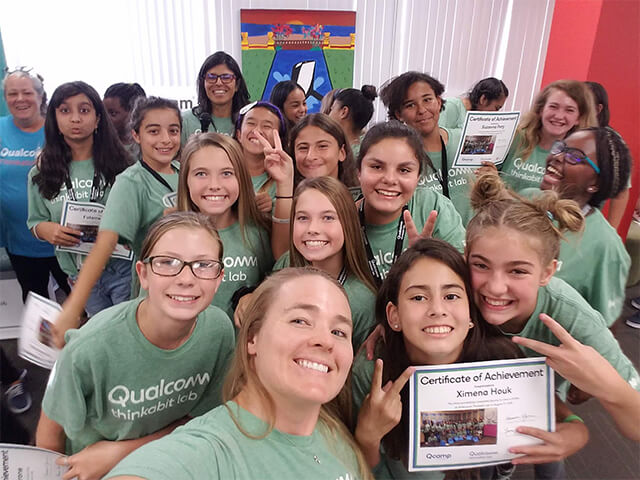 QUALCOMM® WORLD OF WORK CAREER CARDS AVAILABLE IN MEXICO AND THE UNITED KINGDOM
Through an exciting collaboration with the Institute of the Americas, the 34 Qualcomm World of Work career cards representing engineering and non-engineering careers at Qualcomm have been translated into Spanish. The cards will be used during the Institute's Professional Workshop for Mexican STEM Instructors and their STEM summer program for students. "By removing the language barrier, we're able to engage students and educators to explore STEM-related careers and inspire the next generation of scientists and innovators," says Luisa Reyes, STEM Programs Manager, Institute of the Americas.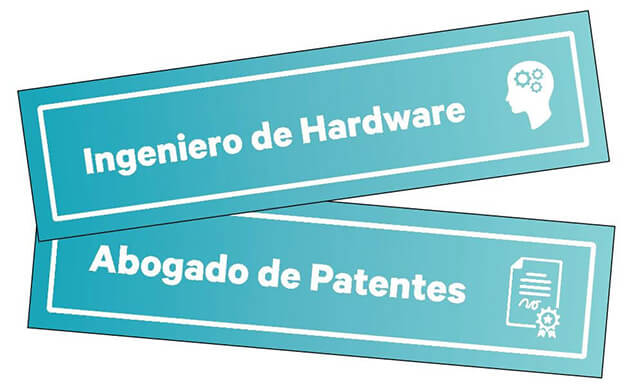 Inspired by Qualcomm Thinkabit Lab's success in engaging US students in STEM, employees in Cambridge are using Qualcomm World of Work career cards to inspire UK students in pursuing STEM fields. The cards were created through a collaboration with the Thinkabit Lab team in San Diego and Barry Byford (Senior Staff Engineer) and are tailored to the UK job market. Passionate employees made great use of the cards for the first time in June during a Women in Engineering workshop to raise girls' awareness about technology careers. More than 250 girls from Cambridge schools attended the event.
FUN ARDUINO ACTIVITIES ARE AVAILABLE FOR DOWNLOAD
At Thinkabit Lab, students and teachers learn to use the Arduino platform to make LEDs blink and to control the Servo motors that make their inventions move. Now, some of those fun and easy activities are available for free download through the Thinkabit Lab website. If you're new to Arduino or to teaching engineering, check out this blog post by Thinkabit Lab Instructor Vanessa Myers. A former math teacher, Vanessa offers tips to help teachers of many different subjects get started teaching engineering.