Replicating Thinkabit Lab™ to improve STEM education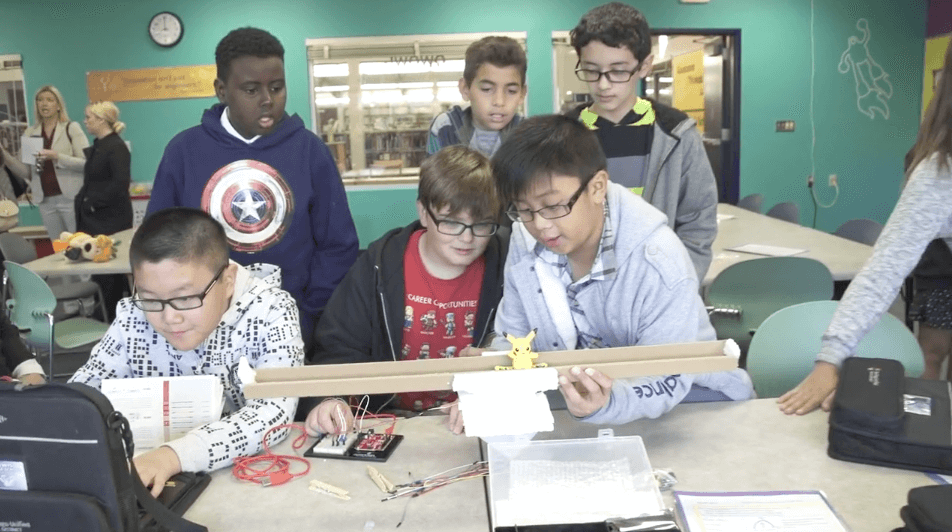 Since it opened in March 2014, the Qualcomm Thinkabit Lab has hosted Experienships - out of school experiences - for thousands of 6th-8th grade students across San Diego County.  Located near Qualcomm's main campus, the lab invites students of diverse cultural, educational, and socioeconomic backgrounds to learn about STEM careers and participate in engineering projects. Many students have told us that their time in the Thinkabit Lab has inspired them to become engineers
We're not stopping there.  Qualcomm is adding three "satellite" Thinkabit Labs, at three middle schools in San Diego County: Lewis Middle School, Vista Innovation and Design Academy (VIDA) and Feaster Charter School. These on-site labs will give teachers and students regular access to the lab's unique, real-world, engineering projects, and enable them to design customized curricula to take full advantage of the Thinkabit experience.
We announced this expansion during a recent ground breaking ceremony at Lewis Middle School. In addition to an enthusiastic group of students, teachers, parents and school administrators, we were honored to have several distinguished speakers including San Diego Mayor Kevin Faulconer who described Thinkabit as "a model for the rest of the country."  Cindy Marten, superintendent of San Diego Unified School District; Francisco Escobedo, superintendent of Chula Vista School District; and Devin Vodicka, superintendent of Vista School District, also attended and delivered remarks.
Lewis Middle School did a superb job turning an old woodshop classroom into a state-of-art Thinkabit Lab that closely resembles our own original lab, down to its colorful design, kid-friendly furniture, and high-tech equipment. We were thrilled to see the pride and enthusiasm in the Lewis students as they gave Mayor Faulconer and others a grand tour.
Representatives from nearby high schools were also on hand to show that the skills these students will learn in the Thinkabit Lab won't end with middle school. Students can choose to apply their training in a number of different high school robotics programs, including Patrick Henry High School's FIRST Robotics Team.
Classes at the Thinkabit Lab are led by Qualcomm engineers and career coaches.  Their goal is to open students' eyes to the diversity of STEM career paths and guide them in creating their own robotic creations. This experience is totally unique, taking kids beyond what exists today in most classrooms and exposing them to a world many of them didn't know existed.
To support the new labs and ensure that students get the same experience they would have here on our campus, our engineering educators are providing professional development for teachers. We are also creating a website where teachers and administrators can access lesson plans and materials, equipment list, signage, photos and 3D renderings—basically everything they need to create their own Thinkabit-styled lab.
Our expansion of the Thinkabit Lab is another example of Qualcomm's commitment to inspiring today's youth to explore and pursue STEM education.  It also reinforces our commitment to contribute to San Diego's innovation economy. Increasing the pipeline of STEM grads is essential to keep innovation moving forward.  Dr. Eric Chagala, founding principal of the Vista Innovation and Design Academy, said, "If we could duplicate this experience over and over again, the future of our economy and future lives for students will be improved." We couldn't agree more.